Stop procrastinating
Personalized nootropic formulas to activate every kind of brain.
Start The Quiz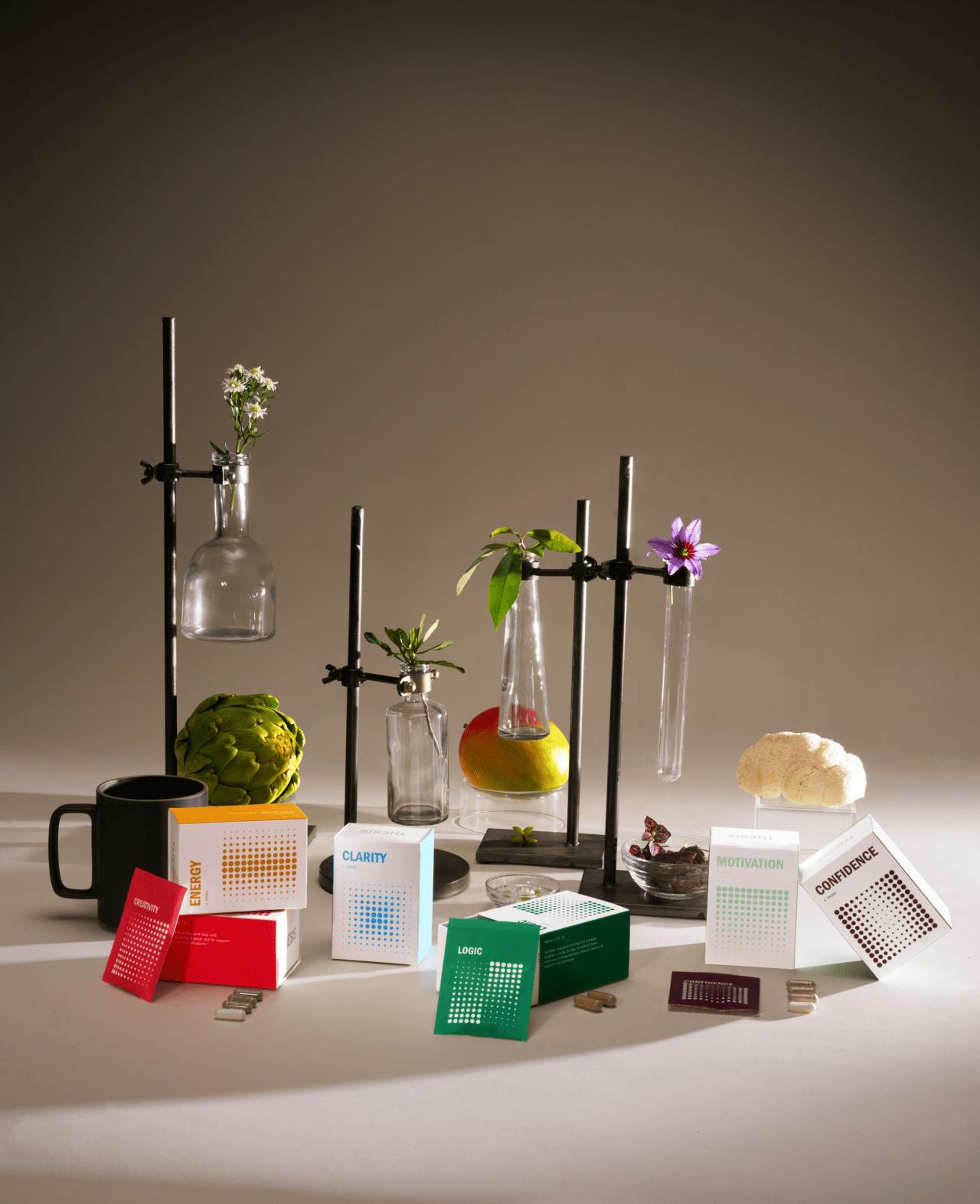 Stop procrastinating
Personalized nootropic formulas to activate every kind of brain.
Start Quiz
Start Quiz
Your personalized Thesis journey:
Nootropics aren't one size fits all. We formulate potent nutrient compounds to enhance mental performance, based on your unique brain chemistry.
1

Take the quiz

Tell us about yourself; we'll determine your baseline and recommend 4 unique blends for your goals.
2

Get your starter kit

Sample your blends over the course of a month to understand what can be accomplished with each formula.
3

Optimize with a coach

Check in with your wellness coaches to customize your blends, based on your experience so far.
Nootropics aren't one size fits all
We formulate potent nutrient compounds to enhance mental performance and make personalized recommendations based on your goals and unique brain chemistry
Your Personalized Thesis Journey
1.

Take the Quiz

Tell us about yourself and your goals. We'll use your answers to determine your baseline and build your recommendations.
2.

Get Your Starter Kit

You'll sample 4 blends over the course of the month to understand what you can accomplish with each formulation.
3.

Optimize with a Coach

Check in with your wellness coach and our nootropics experts to customise your blends based on your experience so far.
Start Quiz

A powerful, natural way to boost your cognition


Thesis can help you
Raise your energy level
Feel more motivated
Clear brain fog
Increase focus
We've Helped Over 500,000 People Find Their Formula
Britney C
Verified Customer
"Motivation gets me going during my six days in a row at work, and Clarity keeps my mind sharp and alert so I'm performing at my best. Creativity does just as it says -- I love this one for when I'm doing the Reading Comprehension and/or Arguments section of LSAT prep; I truly feel like it gives me an edge."
Britney'S BLENDS
clarity
creativity

Ondrej S
Verified Customer
"I did feel different since day one. I got more motivated and had an overall better mood. [Thesis] has been a game changer for me."
Ondrej's BLENDS
energy
clarity
motivation

Renee B
Verified Customer
"I always feel energized and focus without the afternoon crash that I typically experience with coffee. I can get hours of work done and stay motivated all day."
Renee'S BLENDS
motivation
energy

Trish W
Verified Customer
"For someone who has struggled with attention and staying awake, [Thesis has] been life saving."
Trish's BLENDS
energy
logic


Pure and effective ingredients

Pure and effective ingredients
Potent Active Ingredients
Quality counts when supplementing, and only the active ingredients in a blend make an impact.
Clinically Studied Dosage
We only use nutrients that have been proven to safely deliver desired effects in clinical trials.
High Bioavailability
Our nutrients enter both the bloodstream and cross the blood-brain barrier for maximum absorption.
Start the Quiz
"The Thesis process was developed by systematically testing different combinations of high quality ingredients. We made the process of finding the right nootropics quicker & safer."

DAN FREED
CEO & Founder, Thesis
Our research and product development teams review clinical studies and information on safety, side effects, and any potential interactions for each ingredient being considered for a Thesis blend.
Each ingredient goes through two rounds of internal testing, in which members of our research and product development team share feedback on individual ingredients.
The research and product development team reviews existing clinical literature about synergistic benefits between ingredients and integrates it as we continue to formulate, developing 2-4 blends to move forward to Phase 3 testing.
We test each prospective blend internally, as members of our research and product development team try each of the blends before we move forward to Beta testing.
Next, we test multiple iterations of each blend with a group of 100 Thesis beta group customers and collect quantitative and qualitative feedback to help us refine the final blend.
We finalize our winning blend (based on the Alpha and Beta test feedback) by completing a final round of safety testing by our third party lab partners before we release it. Ongoing safety testing occurs with each batch of production.
After the blend undergoes third party lab testing for safety, we launch a limited release to 5,000 customers to help us gather additional feedback and work through our supply chain process
Once a blend passes the limited release phase, we launch full production in a cGMP facility and release it to all customers.
The Thesis Story

Dan Freed
CEO & Founder, Thesis
The Thesis Story
As long as I can remember, people thought I was stupid, lazy, or unmotivated. I started to believe it. In school, I would read the same page over and over again, without absorbing anything. At 16, I dropped out of high school and went to work at a sandwich shop.
Fast-forward ten years — I scored in the 99th percentile on the GMAT and earned Master's degrees from Yale and INSEAD. Nootropics turned everything around for me, and helped me form the positive habits that I built my success on. Once I balanced my brain chemistry, I could perform like never before.
I take Energy to get me going in the morning and Motivation to power through long afternoons.
DAN's blends
energy
motivation
We've helped over 500,000 people find their formula
Creativity is amazing! It literally felt like a different part of my brain was working in overdrive. I was able to communicate more creatively, was able to make up games with my son that I normally wouldn't have done, it's my favorite!
Creativity is my favorite of the four I have had so far. It makes me more confident jumping into conversations at social events, enhances my speaking ability, and makes me feel calm and confident walking into a room of strangers.
After taking this formula for approximately 3 months that instead of losing its potency, it's gained momentum; I'm not a chemist or biologist, but I imagine it's the buildup of neuropeptides... I'm a RN that is required to take 36 hr weekend call shifts & those are the days that I find myself needing another packet to power through with a clear head. There are no other nootropics out there that compare to this formula!
It gave me more energy. I have struggled with low energy and I felt like my old self again. I could get up & get things done
Logic is my favorite formula. It gave me the mental fortitude I needed to complete my complex daily tasks. I would highly recommend anyone to try this. It really works!
"Logic is the beginning of wisdom, not the end." - Leonard Nimoy. Very happy with all of the options. Having the right formula for the right activity is definitely a bonus. My brain is definitely logical, so this is a great augmentation. Hard to review just one of the formulas, because the true magic is catering the formula to the daily activities.
When I was taking the Clarity formula, I had clarity and I was able to absorb materials and understand complex ideas and come up with a concept for my project. It was helpful.
Excellent! Definitely gives me mental clarity when feeling a little groggy. Sometimes my two toddlers keep me up in the middle of the night so the next day I have trouble getting out of the fog. Clarity definitely helps.
Motivation was my favorite. I could get going in the studio and work for hours. I felt like I was 'in flow' and had no desire to sit around and wait for the year 2020 to pass me by! I'd like to also try this formula without Caffeine next month.
Motivation was great. So far my favorite. Once I started taking them I was able to get into a workout routine. It gave me the push I needed to get started

Pure meets effective
We use only the highest-quality nootropic ingredients, sourced in the USA, and rigorously tested for purity.

Functional Mushrooms
Nootropics and functional mushrooms allow your brain to do what it does anyway, but faster, more efficiently, and at a higher amplitude. You'll notice a difference within a few days, and results tend to compound over time.

Choline Sources
Acetylcholine is the neurotransmitter derived from the essential nutrient choline. It's known for memory, learning, and maintaining healthy brain function.

Vitamins & Adaptogens
We've concentrated various amino acids, vitamins, and plant–based adaptogens that protect the brain from toxins, fatigue, and stress, while promoting memory and learning.